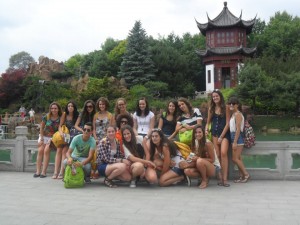 The Rio Tinto Alcan Planetarium will open its doors to the public on April 6!  The new high tech, modern and creative facilities have been build right beside Montreal's biodome.  The cluster of tourist attractions in the east end of Montreal has just grown bigger.  In one day, EC Montreal students can visit the Olympic park, the Botanical Gardens, the Biodome and now the Planetarium!!
Space travel may still be out of reach for most of us, but exploring the cosmos in all its visual glory just became possible in Montreal and we are so excited!  We cannot wait to add this to our list of activities available to students in both our adult and junior programmes.  This will definitely add something special and magical to their Montreal experience!
The Planetarium's main attractions are its two high-tech domed theatres, where the many facets of our universe come into clearer focus. The Milky Way Theatre is classic Planetarium fare with the latest high-tech, optomechanical twists, able to reproduce the night sky as it is above Montreal or anywhere else in the world at any time – thankfully, an astronomer is there to narrate us through the complexity.
The building itself is pleasing to the senses too, with curving corridors, high-ceilinged darkened theatres and bright open spaces. From outside, its mirrored surfaces seem to blend in with the sky, whatever the weather. Designed to the highest sustainable-building LEED certification, the Planetarium is based on the concept of low-energy use, making great use of natural light, grey water in the bathrooms, and building with a focus on reused, recycled and locally sourced materials.  How cool is that?!
Keep an eye out for this new tourist attraction on the next EC Montreal activities calendar!  This is one outing you will not want to miss!!
Comments
comments