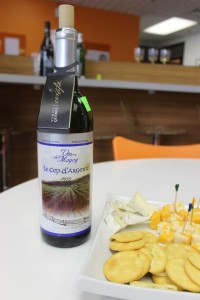 April has been an exciting month here at EC Montreal.  We are celebrating our Gastronomy programme with a free gastronomy session every week at the school.  The month began with a Gastronomy information session that we coupled with a beach party theme in the student lounge!  We gave our students a taste of what this programme consists of.  The beauty of this programme is that students could get a customized programme based on their particular likes.  We offer chocolate making, pastry making, culinary lessons, wine tasting, beer and food tours, etc… the list goes on and on!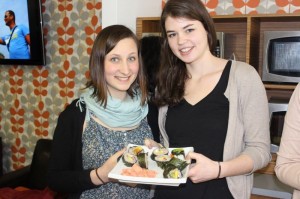 The second week, our lovely special projects assistant, Masumi, gave sushi making lessons to our students.  The students had a blast learning how to roll their sushi.  What a delicious and colourful sight to see!  The students learned how easy it can be and anybody can do it!  They were proud of their achievements!!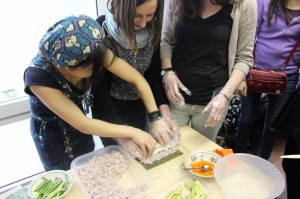 The next gastronomy session was a wine tasting activity.  Students got to sample local Quebec wines and cheeses.  Although our wines do not meet those of European standards, coupled with the right cheese, they are quite tasty!  Our students would agree!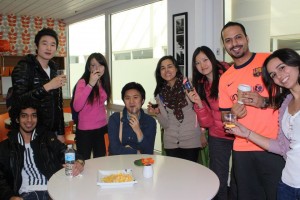 The last of the gastronomy session this month is a potluck party!  Toufik, who teaches our Intermediate level English course in Montreal, is helping us organize the whole event!  He is promoting the potluck to all the other levels and will be surprising us with some sort of class competition!  We look forward to tasting foods from all over the world and celebrating all these different and fabulous cuisines!
There is always excitement at EC Montreal!  This month has already proven to be educational, enriching and delicious!!
Comments
comments