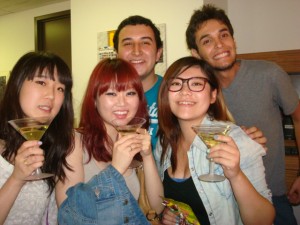 Montreal's summer slogan:  "Montreal is a party and the whole world is invited".  This is only one of thousands of reasons why you should study ESL Abroad at EC Montreal!  EC Montreal offers you the unique opportunity to learn English and or French while being part of a warm and welcoming EC family, making friends and partying in Canada's most exciting city – Montreal!
EC Montreal gives its students a chance to interact with one another through a variety of activities and events inside and outside the classroom.  Through the many academic extras, social activities, outings in the evening and volunteer opportunities.  We encourage our students to get involved in the Montreal community to feel what it's like to be a true Montrealer!
Many visitors have commented on how "at home" they feel in Montreal.  It is important for our students to feel like this is their home away from home, where they can feel safe, comfortable and charmed by everything Montreal has to offer.  Although Montreal is the second largest city in Canada, it has a small town feel to it.  We feel that this too is what contributes to falling in love with Montreal!  Studies have been conducted and Montrealers make more eye contact and smile more frequently than any other Canadian city!  We are also one of the most cosmopolitan cities in the world, we have the most cultures represented.  No matter where you are from, you will fit right in here!
We hope you will join us and discover Montreal with EC!
Comments
comments