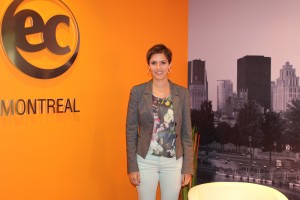 My name is Katrin Brückner and I am the new student counselor/academic assistant at EC Montreal. I am originally from Austria but have lived in Montreal almost two years in total. This year, in April I finished my Graduate degree in education and cultural sciences/ linguistics and handed in my thesis analyzing the language behavior of the Hispanic community in Montreal. I communicate efficiently in four languages (German – my first language – English, French and Spanish).
Working at EC for only three days already made me fall in love with my new working place! I will be taking this position with a lot of enthusiasm and aim to accomplish all tasks related to it to the high satisfaction of our students. As I am one of the main contact persons for them, it will be my pleasure to give them a hand with anything they need. Do not hesitate to approach me with any of your questions, concern or enquiries! I know what it means to discover a completely different environment due to the fact that I have been a language student at many different language schools in France, Spain, Costa Rica, Guatemala and Canada.
I am very looking forward to meet great people from all over the world and help them succeed in a global community! I hope to get to know all of you soon!
Comments
comments