June is right around the corner and we are busy planning our free weekly activities.   June is the start of the summer festival fever in Montreal!  We like our festivities at EC Montreal to mirror what is happening in the coolest city in the world!!  We like to give our students a taste of what is happening in the city and then we encourage them to go out there and live and party like a true Montrealer!!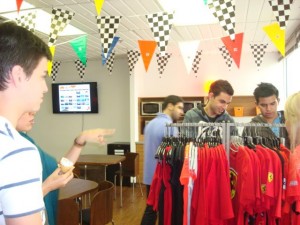 On June 5, we will transform the student lounge in to a F1 shop!  The first week of June, Montreal has Grand Prix fever!  Visitors and celebrities from all over the world come to watch the Grand Prix.  The entire week is dedicated to this event!  Crescent street is closed to cars and there are a bunch of F1 cars on display.  There are also free concerts to get everyone dancing and partying in the streets!  Little Italy's Ferrari club get together and put their Ferrari's on display.  EC Montreal students can buy what they need in our F1 shop and get out there and celebrate with the rest of the world!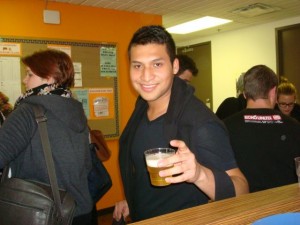 On June 12, in honor of Montreal's beloved Beer Festival and Francopholies, we will be having our very own Beer & French music festival!  We will be serving a variety of international beers while listening to French music from different parts of the French-speaking world!  We will also be giving out information to our students about the Beer Festival taking place at the Gare Centrale as well as the Francopholies festival taking place that week!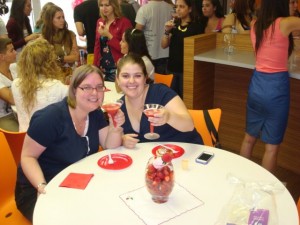 One June 19, we will be celebrating Quebec's sweetest fruit, the strawberry!  The province of Quebec grows local strawberries and there are fields and fields of this sweet fruit all over!  Families get together on weekends to go strawberry picking during the month of June.  It is a time honoured tradition that we are happy to share with our EC Montreal students.  During our strawberry festival we will set up our chocolate fountain and have tons and tons of strawberries and strawberry flavoured marshmallows for students to dip!  We will also be serving strawberry smoothies!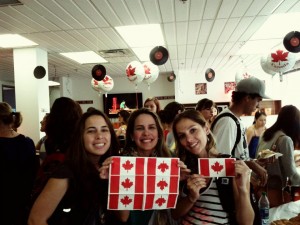 On June 26, we will celebrate both La Fete Nationale and Canada Day in the student lounge!  June 24 is Saint Jean Baptiste day.  St-Jean is the patriot saint of the province of Quebec.  This is how it became Quebec's sacred day!  All businesses and schools are closed on this day.  There are usually parades, fireworks and music shows all across the province.  July 1st is Canada Day – a very exciting and celebrated day in the country.  We will celebrate both Quebec and Canada on the same day at EC Montreal!  We will be serving hot dogs, beer and chips!  Perfect summer food!!
Let the summer festivals begin at EC Montreal!  We can't wait!
Comments
comments