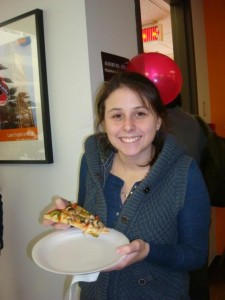 Whether it's late at night, or early in the morning, pizza is one of those wonder foods that you can eat at any time of day, hot or cold, on a plate or wrapped in a napkin…EVERYBODY LOVES PIZZA!!
EC Montreal staff recommends:
BEVO is a charming spot in the heart of Old Montreal. Situated in the corner of a beautiful cobblestoned pedestrian mall, their tables spill out onto the sidewalk forming an informal patio, perfect for people watching and enjoying the summer air. Bevo features a wood-burning oven and a pizza menu with 10 signature pizzas. The Margherita is the traditional favourite; sauce, fresh cow's milk mozzarella, and basil, a perfect way to showcase the BEVO's fresh ingredients and perfectly cooked crust.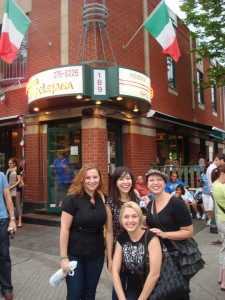 A long time player in the Montreal pizza game is a place that on a good night can see a lineup of 45 minutes. Pizzeria Napoletana sits in Little Italy and has been pumping out pizzas for over 60 years. They have a roster of 41 different kinds of pizza – from the Salumeria (mozzarella, mushrooms, procuitto, capicole, Italian sausage and grilled red peppers) to the Primavera pictured above: mushrooms, mozzarella, anchovies, olives, clams and artichokes. With so many choices to make, the only bad choice would be coming here while on a diet.  This one is our Centre Director, Elisa's pick!  She can't say enough about this restaurant.  She will tell you, however, that the service isn't great, it's cash only and you have to wait no matter when you go, but it is worth it.  The food is divine and it's 'bring your own wine'!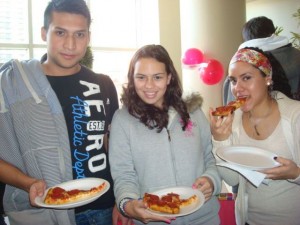 In the Mile-end neighborhood sits Magpie, a rustic spot filled with pizza, microbrews, oysters and old-school Dum-Dum suckers by the cash register. Wood-fired pizza is what they serve here and my favourite is the Prosciutto: fluffy dusty crust, topped with cherry tomatoes, bocconcini cheese, arugula and prosciutto. Salty ham balanced by the bitter greens and sweet sauce – a little bit of everything, paralleling this eclectic neighborhood.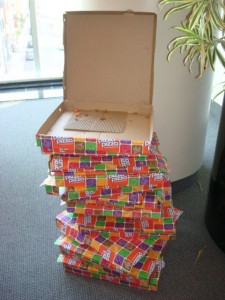 One of the go-to spots for pizza in the McGill ghetto is none other than Amelios. This family-run restaurant has seen its share of hungry students walk through their doors and be fed accordingly. One of the must-haves is the Florentine: spinach and cheese pizza with a signature artichoke sauce. Their second location in the posh Outremont neighborhood has the exact same great menu.
These are EC Montreal's picks for best pizza in Montreal!  We recommend you give them a try!  If you have found a great pizza restaurant during your visit, please let us know so we can share it with our EC community!
THE DETAILS
BEVO, 410 Rue St-Vincent
Pizzeria Napoletana, 189 Rue Dante
Magpie, 16 Rue Maguire
Amelios, 201 Milton & 1205 Bernard
Comments
comments