Yesterday, EC Montreal organized a visit to Old Montreal (near Place d'Armes metro).  Over 20 students participated in this activity! We walked together: taking photos and listening to our guide's presentation of Montreal; past, present and future!  We visited City Hall, the Municipal Court, Jacques-Cartier square, the Artist District, St Paul Street, the Old-Port and Place d'Armes. It always gives us great pleasure to show off Montreal to our students!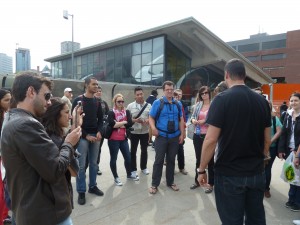 Place d'Armes is the second oldest public site (created in 1693) in Montreal. You can find a lot of interesting buildings. In the center, there is a monument in memory of Sueur of Maisonneuve (the first governor of Montreal). Around this place, you can see: Notre-Dame Basilica, Saint-Sulpice Seminary, Quebec bank, Aldred Building and the Bank of Montreal head office.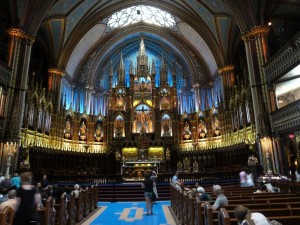 Today, EC Montreal is focusing on Notre-Dame Basilica for you. The church was created by an Irish-American architect James O'Donnell in 1672. The front is inspired by Notre-Dame cathedral in Paris and Westminster Abbey cathedral in London. The most amazing part in the church is absolutely inside! The Basilica is open every day (from 9:00 AM to 4:00 PM). The price is $5; it includes a guided tour in French or English. The Basilica also offers a sound and light show called "And Then There Was Light". The show is done from Tuesday to Friday at 6:30 PM or 8:30 PM and on Saturday at 7 PM or 8:30 PM in Notre-Dame. You can purchase tickets at the Notre-Dame shop for $10.  EC Montreal definitely recommends visiting the Notre-Dame Basilica!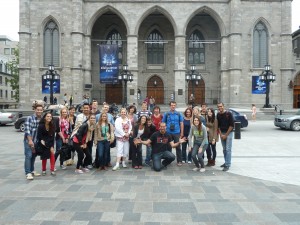 Don't be disappointed if you missed this tour of Old Montreal!  EC Montreal offers it every month!
Comments
comments