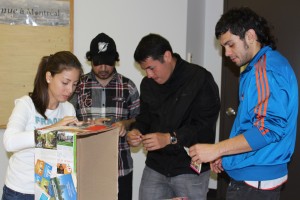 When EC Montreal began promoting our World Environment Day, our students and teachers became so motivated to get involved!  Several classes in both our English and French programmes worked on projects with the environment as a theme.  Djamel, our Pre-Intermediaire teacher, lead his group of students to conduct an environmental awareness survey.  His students circulated a survey to the office staff and other classrooms  to see how much the population is concerned for the planet.  The survey asked questions about water usage, electricity usage, mode of transportation, eating habits and much more.  They compiled the data and presented the results to the class.  They were surprised to learn that some people have incorporated in their lifestyle a responsible plan in protecting the environment.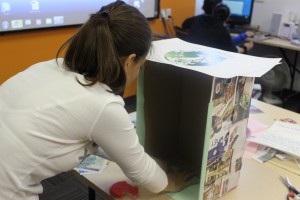 Toufik, our Low-Intermediate English teacher, lead his students to work on a recycling plan and they brainstormed ideas on how to execute their plan.  They decided to create a recycling box for every classroom in the school.  Every week a different student is assigned to empty the box in EC Montreal's giant recycling bin.
Souha and Nicholas, our Upper-Intermediate and High-Intermediate teachers joined their classes and had their students work in groups.  They had to work on presenting an environmental fact.  The presentations were well researched, illustrated and informative.  The motive was to educate the rest of the EC community on living a "greener" lifestyle.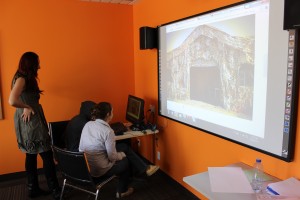 All EC Montreal classes, both English and French, included a writing exercise to their lesson plan in honor of World Environment Day.  All students were asked to write down their environmental committment on a leaf, bird, butterfly or flower and place it in the student lounge on urban forest.  We were all so impressed with the beautiful messages.  They were thoughtful and well-written.  All our guests comment on how colourful the student lounge is with all those wonderful messages.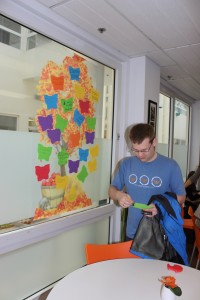 EC Montreal students have embraced this topic and going forward are committed to adding a green plan to their lives!
Comments
comments