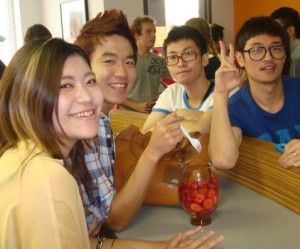 EC Montreal likes to introduce students to local foods and flavors!  Every month, one of the weekly activities is called "a taste of Montreal".
June is strawberry season in the province of Quebec.  Going strawberry picking with your friends or family is a time honored tradition!  It is a great way to spend the day enjoying the long-awaited heat and plucking fruit directly from mother nature!  When strawberries are at their best, they truly are wonderful – nature's candy and bliss all rolled together into a divine package.  Quebec's own strawberries are in season, everywhere in farmers' markets and public markets and grocery stores  The best Quebec strawberries, are nothing short of amazing: fragrant and red and full of flavour – so full of flavour, in fact, that the best thing to do with them, in my view, is eat them unadorned, at least for the first month or so that they're available. They need no embellishment.
EC Montreal celebrates this delicious fruit by having a strawberry festival!  We serve fresh strawberries and strawberry flavored foods!  This year, we are adding a chocolate fountain to the activity.  Students will be able to dip fresh strawberries and strawberry flavored marshmallows in chocolate.  The festival will take place on Wednesday, June 19 at the first break.
We cannot wait to wow our students with a spectacular display of strawberries!!
Comments
comments