EC Montreal recommends a thrilling way to spend a summer evening in the city: the International Fireworks Festival It happens every summer at La Ronde,Quebec's largest amusement park, located on Isle Sainte-Helene in Montreal.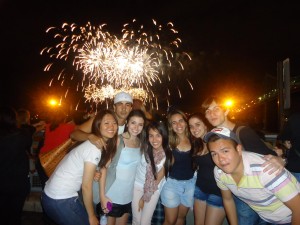 It is an amazing competition, featuring a fabulous mix of music and fireworks, with different themes. This year begins with  Australia, Magic of the Movies, on Saturday 22th June. All shows start at 10PM.  The summer schedule of shows is as follows:
June

Australia

22th Saturday

England
28th Friday

July

China
5th Friday
Spain
12th Friday
USA
20th Saturday
Croatia
24th Wednesday
Canada
27th Saturday
Italy
31st Wednesday

August

Final one
3rd Saturday
You can buy a ticket online from $59.64 to $63.64, depending on seating. This price includes entrance to La Ronde during the day. Tickets can be boughtdirectly at the La Ronde office; they're going fast! To enjoy the show for free, relaxing on the grass in the old port still offers a great view of the aerial festivities.
Come with your friends, enjoy the show, and cheer on your country!
Comments
comments