Welcome Back to the EC Montreal Junior Section!
We are thrilled to be back. Another summer of fun and excitement with the fabulous teens of EC! The Young Learners/Teen Language Adventure programme has begun again, for its 2013 installment.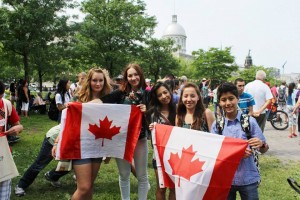 Our programme this week kicked off with a great Canada Day celebration. It was a terrific chance for the new students to see what Canada is all about!
We welcome students from many different countries, including Mexico, Brazil, Spain, Austria, Germany, France and Bermuda!
We are looking forward to a great summer and many new memories.
We hope you'll follow along with all the fun 🙂
Comments
comments