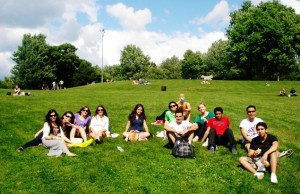 To celebrate 25 extraordinary years of bringing Shakespeare to Montreal parks, please join us at EC Montreal as we tour yet another magical production of A Midsummer Night's Dream  The play will be taking place from July 11 to August 4, 2013 in various parks around the city.  EC Montreal students will be attending the performance at the Westmount Park on Wednesday, July 17.  It is only a 10 minute walk away from EC Montreal.  It is a magical way to spend an evening in glorious Montreal!!
One of the most beloved plays by William Shakespeare, A Midsummer Night's Dream has something for absolutely everyone: lovers in a dangerous time, spooky woods, fighting fairies, mistaken identities, hardworking men in makeup, love and laughter, music, magic and mayhem, and all the excitement that comes when friendship and love are pushed to their limits.
EC Montreal's activity programme surely has something for everyone!  The world of Art is very much alive in Montreal!  We love to introduce our EC Montreal students to the spectacular performing arts of Montreal!
Comments
comments