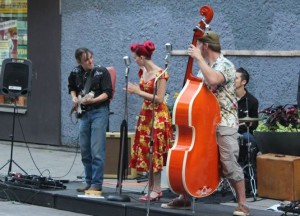 This weekend will be very busy in Montreal! Music, art, humour, everything is possible in this city!
 The Just for Laughs Festival has started! André Sauvé, a very famous humorist in Québec will perform everyday starting tonight until the 20th of July. He is very well known for his sense of  humour. You can see him at the Theater Maisonneuve every night at 8PM. The price ranges from 31.25$ to 55.37$ plus taxes.
Tomorrow is the start of the Street Art Festival!  It will go on until July 27.  There are 115 shows and activities that will take place during these two weeks! There have never been so many shows in the festival's history! There will be visual arts, electro parties and much, much more!   This is a festival not to be missed this summer!
On sunday, Guns N Rose's, a group formed 28 years ago  is playing at the Metropolis at 10PM. These old guys still know how to play music! The ticket prices range  from 127$ to 158.40$.
There is always excitement with EC Montreal!
Comments
comments