The EC Montreal Young Learners students got in touch with their natural and sporty sides this past week, getting a chance to experience traditions both new and old. They trekked up the Mont Royal for a Sunday afternoon of Tam Tams, before heading to Saputo stadium to take in a Montreal Impact soccer game!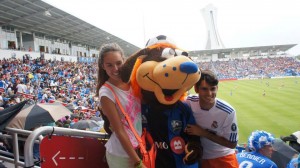 The themes of nature and physical activity were everywhere.
From the Mont Royal hike to The Botanical Gardens, all culminating with a trip to the EcoMuseum Zoo, the students took full advantage of their visits to the greener side of EC!
The students also got active! Practicing their yoga and going wall climbing, getting grounded and high up in the air, two short days apart.
With all that physical activity, the students quickly worked up an appetite!
Stay tuned for more Young Learner adventures!
Comments
comments