On Tuesday, July 9, EC Montreal students had the chance to deepen their knowledge of the foundations of education. Therefore, the history of the educational system of three countries was presented. If you plan to study at EC Montreal, participating in a big variety of free activities will be an efficient component to improve your language skills!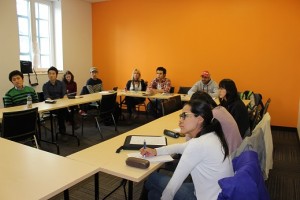 As illustrative examples;  Europe, North America and Quebec were taken. Rene Roy, our Assistant Director of Studies, gave a brief overview of the most important events that marked the development of education in these parts of the world. Starting at the time of the French Revolution in 1789, education systems have been influenced by different flows and developed in different ways. Quebec is a mix of North American and European influences as it has incorporated traits of both parts.
All in all, an interesting information session followed by a short conference and discussion which allowed the students to improve their listening and speaking skills.
Comments
comments