EC Montreal offers so many course options that we welcome so many different types of students.  During the summer months, family stays are very popular!  We have families travelling together who enrol in our different programmes.  We currently have a mother & daughter team booked in our summer programmes.
Patrizia Chiartelli and her daughter Laura Pessagno are on a family adventure in Montreal!  They are enjoying their experience at EC Montreal and wanted to share their comments with the world!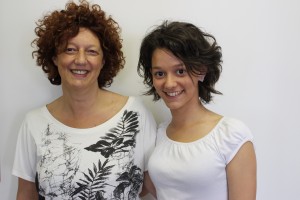 I like very much this school because of the teachers and the new type of lessons that I attend.  For the first time, for example, I can talk about actual events with my class.  We discuss many different topics.  Today, for example, we talked about poverty in the world.  We were asked to share our opinions using a new type of vocabulary and grammar.  I have made many friends and I hope I will come back here soon!  Thank you EC Montreal!
Laura, 17 years old
I like this school.  Everybody is so friendly.  I am staying only 2 weeks, a short time but I would like to return soon!  I have met many other students and I have learned a lot of things about their country.  This is a great experience for me.  Most students are young and energetic!  My teachers are excited to teach the students.  I think that they love their job!
Patrizia, 52 years old
Comments
comments