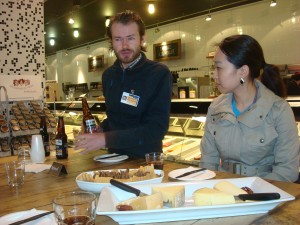 Montreal is known for being the Gastronomy capital of Canada.  Food and drinks are a huge part of Montreal's culture.  It doesn't take much time for our visitors to discover that Montreal is a food lover's paradise!
EC Montreal makes sure to include a Taste of Montreal in every month's social events calendar.  It was also very easy for EC Montreal to put together an English or French plus programme.  In Montreal…the obvious choice was Gastronomy!!
EC Montreal's Gastronomy programme consists of 2 gastronomy sessions per week.  The sessions could be culinary classes, mixology lessons, pastry making or one of many food tours.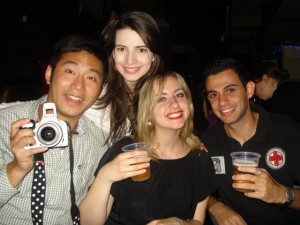 A tour that combines both food and drinks is called, The Bar Hopping in Old Montreal Tour.  The tour is only offered on Fridays and it begins in the evening at 5:30 pm.  Participants are offered a tall glass of Boréale beer (made in Québec, bien sûr) mixed with a sparkling apple juice into a refreshing concoction perfectly suited to the homemade chips that accompany it. The fries are cooked with duck fat!  The fries are a specialty of Boris Bistro, whose gorgeous interior courtyard is an oasis of peace on bustling McGill Avenue.
Your guide will entertain you with local facts on the way to your next stop!  You will then get a taste of Accords. This tasteful wine bar has the greatest selection of vintages stored in a dispenser that uses argon gas – which preserves the wines at the perfect temperature.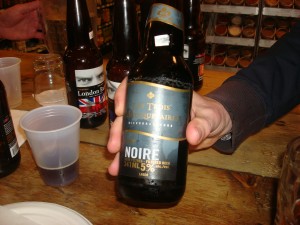 To accompany a small plate featuring a crispy piece of veal sweetbread, sip a crisp glass of seyval-chardonnay by Les Pervenches, a winery in the Quebec town of Farnham. The honeyed tones of this biodynamic wine reflect the auburn woods of the beautiful wooden bar.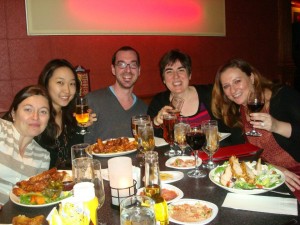 The final stop takes you on a stroll past the  Pointe a Calliere museum, a few feet from the spot the city was founded, right next to Communion. This hip restaurant has a standout patio!  The idea at Communion is that everything tastes better when shared. They specialize in large communal dishes you and friends can all enjoy together.  During the tour, you'll enjoy a scrumptious – and potent – apple cocktail called the Adam and Eve, made from ice cider, brown rum, white rum and calvados. And to go with that, how about a slice of goat cheese cheesecake topped with berries and a side of sorbet? Share it with your new tour friends, and it'll taste even sweeter!
Doesn't the above itinerary sound amazing?!  This is just one of the many gastronomy sessions that await you if you book the Gastronomy Programme at EC Montreal!
Cheers & bon appetit!
Comments
comments