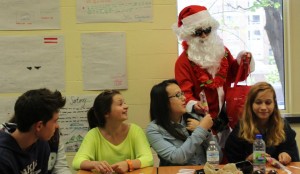 Every year, EC Montreal celebrates July 25!  We call it Christmas in July!  Christmas is a very festive time of year and combining that with the joy of summer…well it creates an amazing holiday!
Our summer intern, Robin dressed up as a Summer Santa and handed out popsicles to both the junior students and adults!  No matter if you have been naughty or nice, Santa gave everyone a refreshing treat!  Robin played the role beautifully!  He brought joy to everyone he met with his lyrical ho,ho,ho!!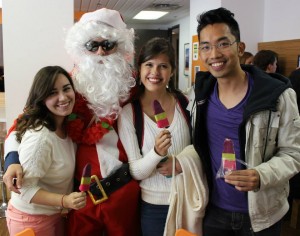 We had Christmas music playing in the student lounge and there were decorations on every table!  We made every effort to recreate Christmas Day in the middle of July!
Everyone lined up to take their picture with Summer Santa!  I am sure everyone at EC Montreal will never forget meeting Santa on July 25 in Montreal!
Comments
comments