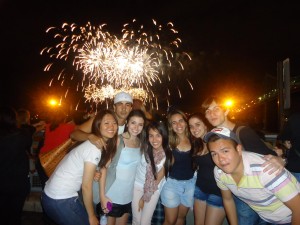 You may say – what's the big deal about food trucks?  Montrealers will tell you, food trucks are very big deal since they have always been banned in Montreal.  This summer, Montreal made history in allowing restaurants to run their business out of trucks all over the city of Montreal!
Food trucks have become very popular all over North America.  There is even a very popular television show on the Food Network called Eat Street.  This program showcases all the best food trucks all over the USA and Canada.  People love discovering new foods and find it special lining us outside a truck to taste their specialty.
As Montreal is the gourmet capital of Canada, our food trucks are extraordinary!  You will not be served junk food – how about ordering foie gras from a food truck?!  Montrealers are used to eating well and expect quality food with great taste!
EC Montreal students can attest to this!  They all fall in love with our great restaurants and all complain about gaining weight during their stay!!
This weekend all of Montreal's food trucks will unite at the Olympic Stadium.  It is a chance to get a taste of all the quality food trucks this city introduced this summer!
Bon appetit!!
Comments
comments