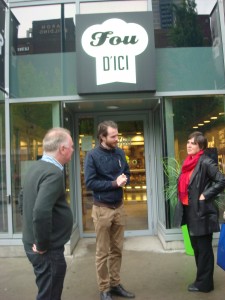 During our upcoming months, EC Montreal will introduce to students to activities celebrating Montreal's French Canadian culture.  We will be organizing after school activities where students can be more immersed in the French language. Learn French in Montreal.
We will take them to the more French part of Montreal, east of St-Laurent boulevard, to places like St-Sulpice where you will hear mostly French spoken.
We will also take our students to a bar in Old Montreal called Les Deux Pierrots, where students can dance to French Canadian folk music.  Students have been known to get carried away by the rhythms and start dancing on the tables, which is surprisingly encouraged.
We will have typical Quebecois dishes such as poutine, meat pies, called tourtiere, in French and other local flavours.
We will be making more of an effort at EC Montreal to expose our students to the wonderful French Canadian language and culture.  Whether it is French films, music or foods, we can't wait to share this warm culture with our students so they can see how French Canadians enjoy life to the fullest!
Comments
comments