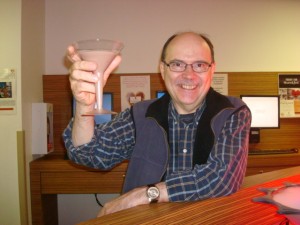 Donald Sexton has been teaching English at EC Montreal for many years.  He is one of those teachers that consistently gets excellent evaluations from our students.  He always has a positive attitude and is well liked and respected by his supervisors, his students and his peers.
Donald is also one of our Academic Year tutors.  He helps plan and implement our free academic extras such as our pronunciation clinics, round table discussions after our movie day and workplace readiness clinics.  He meets with our Academic Year students and helps them to plan their academic journey with helpful tips and advise.
Anytime EC Montreal organizes a community service event, Donald is one of the first to sign up to volunteer his time!
Recently, an EC Montreal student came to the office to extend his studies.  He made sure to let us know that his teacher, Donald, was a key factor in helping him decide to extend.  He thinks Donald is a terrific teacher and so do we!
We are proud to have Donald on our team of teachers and congratulate him for inspiring our students and us all!
Comments
comments