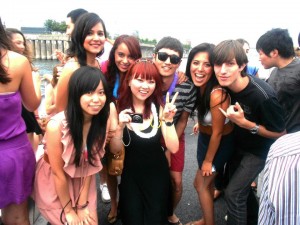 The 2013 Montreal Lesbian, Gay, Bisexual and Transgender Association (LGBTA) Parade is scheduled for Sunday August 18, 2013, beginning at 1 p.m. The parade will start on the corner of Guy Street, right outside the EC Montreal school and will travel east on René-Lévesque Boulevard, culminating on Sanguinet Street in the Gay Village. The crowd will march to Place Émilie-Gamelin where everyone is invited to keep the celebrations going during the MEGA T-DANCE show.
The parade will feature floats from hundreds of local sports teams, cultural and community groups as well as other gay, lesbian, bisexual and transgender organizations. The parade will also feature both gay and gay-friendly businesses that join us in celebrating the significant contributions of their LGBT employees and clients.
We hope you will join EC Montreal in celebrating and supporting Montreal's LGBT community!
Comments
comments