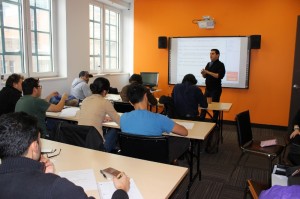 EC Montreal offers a great programme called the Language Co-Op Programme.  This programme combines studies with a work placement.  The programme is intended to give students an opportunity to practice their English and French skills in real life work settings.  It is important to note that the programme is a language building programme and not a career enhancing one.  At EC Montreal, the placements are bilingual as this is a reality of our city.  In order to work and live in Montreal and to be able to serve the public, knowledge of both languages is essential.
Candidates must be at an intermediate to advanced level of both English and French in order to qualify for acceptance. Students must have a minimum of 80% attendance in their study portion of the programme to move on to the work placement.  The work weeks may not exceed the study weeks in terms of both number of weeks and number of hours.
As the programme is a language building one that compliments the student's studies, students must give us 3 choices for their placement.  The most important part of the placement is the chance to practice the language.
Participating in EC Montreal's Language Co-Op programme will give students great international work experience, an opportunity to learn how companies function in Canada and another element to their immersion experience.
A study and work permit is required to participate in EC Montreal's Unpaid Language Co-Op programme as well as medical insurance for the duration of their stay in Canada.
If you want to put something exciting on your resume and an opportunity to practice your English and French skills, join us at EC Montreal and sign up for our Language Co-Op programme!
Comments
comments