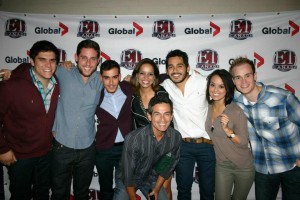 The latest chapter of the X-Men movie series just wrapped up filming in Montreal!  The cast and crew have been here for several months.  There is no place like Montreal in the summertime!  It is no surprise that the cast and crew fell in love with our beautiful city!
Many EC Montreal students have had the excitement of spotting celebrities in Montreal!  Hugh Jackman and Jennifer Lawrence have been hanging out all over the city.  They have been seen having a coffee in the Mile End or shopping in music shops right downtown Montreal close to EC.
The members of the X-Men loved the city so much that they felt the need to give something back to Montreal!  They felt so welcomed by Montrealers that they couldn't leave without doing something special!  They decided to donate a cheque of $10,000 to Montreal's super hospital!!
Montreal is in the middle of building a super hospital.  The hospital combines such storied health institutes as the Royal Victoria Hospital and Montreal Chest, along with the Montreal Children's Hospital and Shriners' Hospital for Children. There will also be a cancer centre, research institute and Centre for Innovative Medicine, which will integrate research and teaching alongside patient care.
Thank you cast and crew of X-Men!  We have enjoyed hosting you during your Montreal filming adventure!
Comments
comments