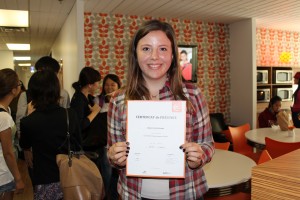 Mariana Tourinho Borges is a 17-year old student from Brazil.  She has been attending high school in Montreal for the past year.  During her summer break from school, she wanted to take French lessons.  Her homestay host, Nadia Battani, who also hosts for EC Montreal, encouraged her to come check out EC!
Mariana came to visit the school and participated in a free trial class.  She fell in love with EC Montreal immediately!  She signed up for 8 weeks of French studies.  Last Friday was her last day of classes.  She was so sad.  She is resuming her high school classes next week.  She said that because she will be in Montreal until January, she will come by to visit us and will participate in some of our evening and weekend excursions!!
Mariana could not leave without sharing her comments with the world!
Well, I just have good things to say about EC Montreal. Now, in the end of my course here, I can say for sure that I couldn't have chosen a better option to spend my summer.I met so many people, from all over the world, I really learned a lot, not just French but about so many different and interesting cultures.. The people here are just the Best ever! It was, for sure, the best experience in my life… I Love it and I can not wait to repeat it!
Comments
comments