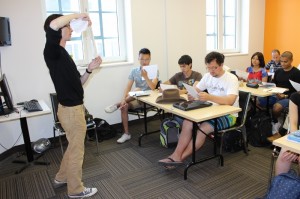 EC Montreal offers the IELTS preparation course as a 20 Lessons per week programme.  The course is exam focused giving students an opportunity to train on all aspects of the exam; Speaking, Listening, Reading and Writing in addition as well as focusing on grammar and vocabulary.
Every Friday, students work on practice exams to give them the confidence and skills required to pass the exam.  Although EC Montreal is not an official IELTS test venue, we help prepare our students to pass the exam that is offered 2 locations in Montreal.
EC Montreal's success rate is very high!  Students are very satisfied with our course and go on to get very good results when they take the test afterwards.
Students must possess an Intermediate level of English in order to participate in this specialty class.  Students take a free trial class giving the teacher an opportunity to assess the students' language ability.  The moment our trial class students get a taste of the course, they are hooked and sign up right away!
All North American Universities accept the IELTS score as a pre-requisite for admittance.  We are proud to offer this preparation course at EC Montreal and congratulate our teachers on helping our students succeed!
Comments
comments