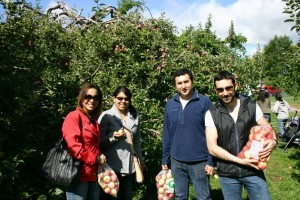 On September 21, EC Montreal is organizing an amazing full day excursion to the Laurentian mountains!  September is the perfect time of year to head up north to get a look at the wonderful fall colours and to be one with nature during harvest season!
The excursion itinerary is an exciting one!  Every detail has been planned!
The bus will leave EC Montreal at 8:00 a.m. on Saturday morning and the first stop will be at St-Joseph du Lac to visit an apple orchard.  The students will get a tour of the orchard on the tractor ride and will be given a bag to pick their own apples.  Everyone will leave the orchard with 10 pounds of apples!!  In previous years, students have shared their apples with their classmates and homestay hosts and have baked wonderful treats with their apples!
The next stop will be to a Quebec vineyard in St-Joseph du Lac.  There we will get a tour of the vineyard and the winery and will have a free wine tasting session!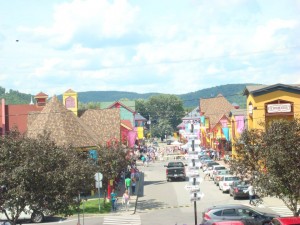 After a few wine samples and a few bites of apples, the bus will make its next stop in the Saint-Sauveur village!  There we will have free time for shopping at the outlet stores, a stroll in the village or a break for lunch!  Saint-Sauveur village is a charming town in the middle of the Laurentian mountains.  The view of the ski hills and the lovely shops and restaurants makes this destination absolutely picturesque!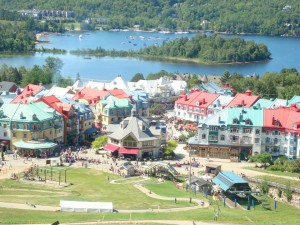 The final stop on our Laurentians adventure is the highest peak in Quebec, Mont-Tremblant!  Mont-Tremblant is a world-known tourist attraction.  Many famous celebrities own homes and cottages in this area of Quebec.  No matter what the season is, Mont-Tremblant is an exciting village to visit!  Our favorite time of year to visit is the fall!  The fall colours are bursting in hues of red, orange and yellow!  The views from the top of the mountain are absolutely majestic!  We will have 3 full hours of free time to discover the region.  Students could hike up the mountain, take a stroll through the village shops, have a drink at the many bars and eateries or simply take a gondola ride to the top of the mountain and take in the amazing view!
We look forward to sharing this beautiful part of Quebec with our students on Saturday, September 21!
Fall in love with EC Montreal!!
Comments
comments