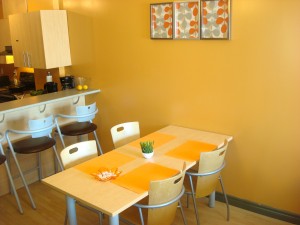 EC Montreal leases 3 apartments at the Varcity 515 Residence.  It is a privately owned residence right in the heart of downtown Montreal, 2 close metro stations away from EC Montreal.  The residence offers unique living arrangements for students.  95% of students living at the Varcity 515 Residence are University students attending McGill University, Concordia University, Université de Montréal as well as UQAM.  The 4 big universities in Montreal!  EC Montreal students staying there have the wonderful opportunity of interacting with native English or French speakers.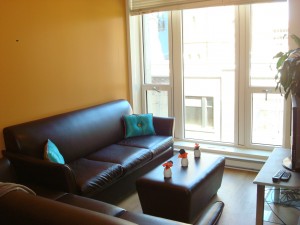 The residence has the most impressive common areas.  There is a lounge area close to the reception area with an enormous fireplace.  There is a theatre room, a playroom with Ping-Pong tables, pool tables, video game consoles and bistro tables.  There are study rooms, music rooms as well as a gym and weights room.  The residence offers free evening activities several times a week, such as movie night, pizza dinners, yoga classes and many other events.  Students have an opportunity to hang out and make friends in a comfortable and inviting atmosphere!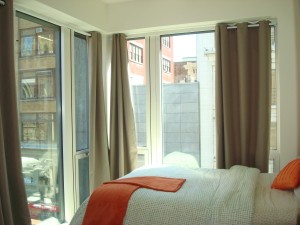 The apartments themselves are the most unique part of this residence.  Students have their are own private bedroom within 5-bedroom apartments.  There are 2 shared bathrooms per apartment as well as a fully stocked kitchen, breakfast bar, dining room and living room.  There are laundry facilities on every floor as well as free wireless throughout the building.
Students have the privacy of their own space and the benefit of sharing the living space and interacting with one another.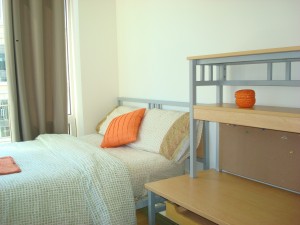 We recently visited the residence and were delighted to see the students cooking together and hanging out comfortably watching television or listening to music.  They all said how much they love living at the Varcity 515 Residence!
If you want to study at EC Montreal and you want the privacy of living on your own with an opportunity to make friends in the heard of downtown Montreal, the Varcity 515 is the best option!
Comments
comments