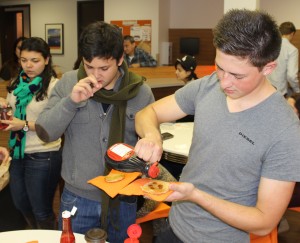 There is nothing more comforting on a crisp autumn morning than comfort food!  Pancakes are the ultimate comfort food!  EC Montreal students were served delicious pancakes during the break today.
Paula, our wonderful cook, whipped up an amazing batch of hot cakes!  She served our students with so much joy and pep!  We added some pumpkin spice to go with our Haunted Oktoberfest theme this month!
Our students lined up to get a taste of the wonderful pancakes!  We had a topping station with maple syrup, caramel, chocolate and strawberry sauces!  The students had a great time creating their own pancake masterpieces.
Our students love having these moments to share and interact with each other!
Life sure is sweet at EC Montreal!
Comments
comments