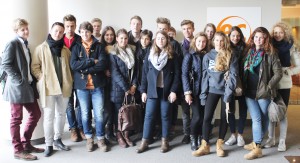 On Saturday, October 12, EC Montreal welcomed a group of Austrian high school students.  They are from a very special private school in Vienna called Theresianum.  This very prestigious school focuses on languages.  These very talented teens are learning 5 languages at the school; Russian, English, Latin, Italian and French!  We are very impressed!
This group of students travels often to different parts of the world to be fully immrsed in one of the languages they are studying in school.  They recently visited Russia!  They are now in Montreal attending their French lessons at EC Montreal and being fully immersed in the French language and culture!  The added bonus is they get a chance to practice their English skills in Montreal!
These 23 intelligent and outgoing Austrians are so excited to be here and are taking advantage of their Montreal adventure!  They have already taken a 3-hour Montreal city tour and visited the city of Ottawa on Monday!  Last night, they participated in our welcome Smoked Meat group dinner!  When we told them that Montreal is the home to this sandwich, they all wanted to get a taste of it!!
On Saturday they will be taking a 1-day trip to Quebec city and next Tuesday they will all travel to Toronto & Niagara Falls for 4 days!
We are delighted to have them here and wish them success with their French language training!
Comments
comments