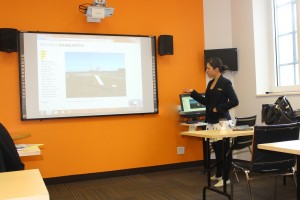 EC Montreal offers its students bi-weekly lectures as part of its academic extras.  This week we had a Canadian visual artist, Nathalie Quagliotto, present.  The lecture was titled "The Unique Canadian Art Scene".   She gave a talk on the different perspectives of the Canadian art scene.
Nathalie spoke about her experience as an artist and the different pieces she produces.  She also talked about the quality education an artist can receive in Canada and the different art programmes available to students.  She informed the group of students interested in the art world the many different type of galleries and art exhibits they can attend right here in Montreal.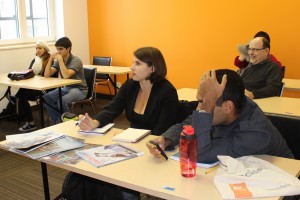 The students asked many questions and were interested in the discussion.  The lectures are available to everyone, however, participation from our Academic Year students is strongly recommended.  Attending such academic extras will compliment their studies and add to their language training.  Students enrolled at EC Montreal for a length of 24 weeks or more qualify for Academic Year status.  There are many benefits to being an Academic Year student.   In addition to their tuition, these students get the added value of free tutorials, lectures, films, reading circle, pronunciation clinics, cultural awareness, community involvement and so much more!
EC Montreal's lecture series offers our students a wonderful opportunity to help improve their listening, note-taking, writing and speaking skills.  They can develop their question asking skills while building their confidence!
Make sure to keep an eye out on EC Montreal's activity calendar for the next interesting lecture or other academic extra!
Comments
comments