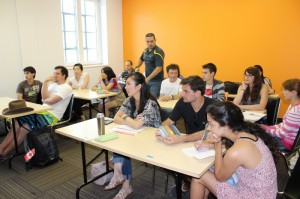 EC Montreal's reading circle is part of our student's morning classes every Friday.  The purpose of this component is to assist are students in developing an interest and appreciation for reading.  It gives our students an opportunity to practice their reading skills by reading different chapters of a book every week.  The students then take part in group discussions with their classmates.
EC Montreal offers a wide range of reading material so there is something for everyone.  The purpose of this language exercise is to help our students become more interested in reading.  Most people feel reading is a chore.  We want to change this perception.  Reading is fun and gives you an opportunity to escape to a different world!
The reading circle enables our students to become more independent readers in English and less reliant on translating.  It also gives students access to a lot more vocabulary and will help improve their use and understanding of grammar.
Students are evaluated during the reading circle and are given marks for their participation.
Comments
comments