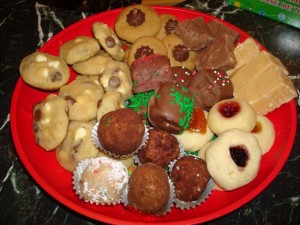 Monday, November 11 was a national holiday in Canada, Remembrance Day.  The EC Montreal school was closed.  I decided to spend the day baking for our Movember fundraiser that will take place on Wednesday, November 13.
I spent hours in the kitchen making hundreds of goodies to be sold at our bake sale this week.  All the proceeds will be donated to the Movember Canada foundation.  They will distribute the funds to various men's health charities.  We hope our Movember fundraising efforts will help raise awareness for these male diseases.  The statistics are astounding.  1 in 7 men will develop prostate cancer.  The good news is that if the cancer is detected early enough, prostate cancer is one of the most curable cancers.  95% of the patients will have a full recovery.
EC Montreal has been displaying statistics and other relevant information around the school to promote awareness for this serious cause.  The most important message we are trying to send is that men should go for a yearly physical to get examined to ensure they are healthy and if there are any issues, they could be dealt with immediately.  Many men ignore their health or are too ashamed to admit how afraid they are to get a physical.   Although we are trying to raise a lot of money to be donated to cancer research, if we manage to convince even 1 person to make an appointment for a physical, we feel we have succeeded what we set out to achieve!
We hope the entire EC Montreal team of teachers, administrators and students will be extra generous on Wednesday, November 13 and give.  It will be a full day of giving with a pancake breakfast at 8:30 a.m., the bake sale at the first break and a carnival after school.
I baked my heart out today because this cause is very dear to me.  I hope the fundraiser will be a huge success and a good time will be had by all!
Elisa
Comments
comments