We are proud to introduce you to Nick McGrath, EC Montreal's new English teacher.  He is so happy to join the EC Montreal team and wanted to share these comments with all of you: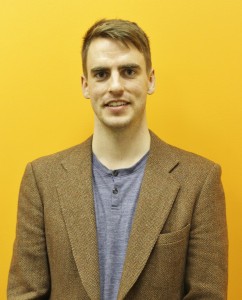 I have been teaching here at EC since the winter of 2013. Five years earlier, I moved to Montreal from Toronto Ontario and discovered a passion for learning languages. After putting years of effort into discovering the French language, I made the move into the classroom to teach English. I love languages, the sound of words, and the challenge of decoding and discovering a new language. I am also very fond of music and spend much of my free time playing guitar and reading.
EC is a school with a wonderful set of staff and teachers. You can feel the positive energy the moment you step into the school or enter one of our classrooms.  The students here are very motivated and they encourage each other in class and beyond the classroom.
I am thrilled to be a part of the teaching team here at EC. As a teacher, I enjoy the process of taking the course content and finding its relevance to our students' lives.
My students are always encouraged to discover their own learning path. I love being in an environment where we have the resources to help our students progress through grammatical problems and eventually find their comfort and confidence communicating in a new language. 
Comments
comments