Adriana Aguilera and Jenny Shin wowed EC Montreal staff and students with their marketing presentations today.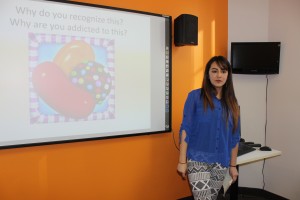 Adriana's presentation focused on neuromarketing, how marketing campaigns use sight, sounds and other senses to lure consumers to purchase their products.  She gave examples of the Pepsi vs Coke campaigns where although in a taste test, most people chose Pepsi, at the time of purchase people chose Coke, as consumers have a deeper connection with Coke because of their "feel good" commercials and powerful world messages.  She also shared a a Candycrush case study and explained why the game is so addictive.  The colours, sounds, images and ease of play are large contributors.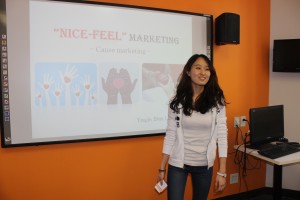 Jenny's presentation was centered around Cause Marketing.  Companies that choose to advertise their products by magnifying their Corporate Social Responsibility (CSR) efforts.  Consumers would choose to buy from a company that cares about their community, the environment and makes charitable donations.  She illustrated her presentation by giving examples such as Tom Shoes and Samsung in Korea.  Tom Shoes' campaign is Buy One, Give One.  For every purchase of Tom Shoes, they donate a pair of shoes to the needy in third world countries.  Samsung wanted to address the high suicide rate in their city, which was the highest in the world.  Many of the suicide victims would take their lives from a very famous bridge.  Samsung's mission was to convert this bridge of death into a bridge of life.  They added banners of light with messages and images of love, life and hope.  As people would cross this bridge, they would be inspired by the quotes and would ultimately, choose life.  Samsung's commercial does not talk about their products, it only tells the story of this bridge of life.  Their intiatives in this campaign helped to reduce the suicide rate by 77%.
Jenny explained in her presentation that although many companies use CSR as a marketing strategy to sell more and be the most beloved organization, the messages they are sending are actually messages of love, hope and doing good for our planet, so she believes they can be justified.
We are very proud of Adriana Aguilera  and Jenny (You-Jin Shin) who took on the challenge of presenting  their Business English Elective IRS project as part of lecture series.
We  encourage our students to take risks with language, share their knowledge with a supportive and appreciative public  and be proud of the progress they have made. Their success is our success and serves as a model for future students
Comments
comments