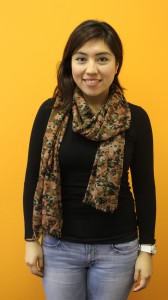 Christian Perez Peralta is from Mexico.  She has been studying in our Semi-Intensive English Programme, which consists of 24 Lessons of instruction per week, since August 5, 2013.  Today was her last day at EC Montreal.  We are so sad to see her go.  She wanted to share her comments with all of you!
I decided to come to Montreal because I thought it would be a good place to learn not only English but because it's a multicultural city. I am enjoying this experience so much because I have been improving quickly.
When I arrived here I couldn't speak but now I think I am a little better! I have had the opportunity to meet people from other countries and I've made good friends. The city is really beautiful and I am glad to have had this experience at EC Montreal!
Christian Perez Peralta
===
EC offers a host of different English Language courses, including basic English in Montreal.
Comments
comments