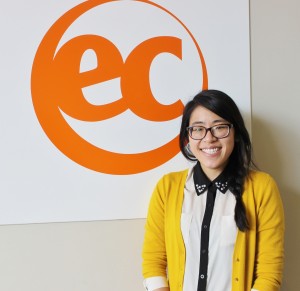 My name is Melissa and I'm excited to join the EC teaching team here in Montreal English School! I'm originally from Toronto, Canada, and have lived and worked both in Toronto and Hong Kong, teaching English. I strive to create a positive, peaceful, and warm environment in my classroom, so that students feel free to learn.
One of my favourite things about working in a place like EC Montreal is the variety of people that I get to meet as a teacher, and I love getting to hear people's stories and see how learning to communicate plays a role in their lives!
In my free time, I like to watch movies and read – I especially enjoy scouring used bookstores for good finds! I also love music – I play guitar and piano, and sing, and I absolutely love going to see live music.
I'm looking forward to meeting lots of students and helping them share their stories, gifts, and experiences with the world.
Comments
comments