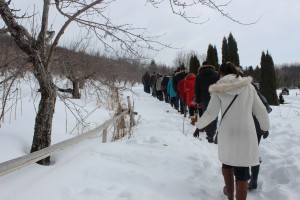 Yesterday, EC Montreal students visited a local Sugar Shack in the Quebec region. We toured a maple farm and learned how maple syrup is made.  Our guide went into the details of the history of maple syrup, dating back to the Native Canadian Indians who used the water from the trees as drinking water and to create other drinks and foods.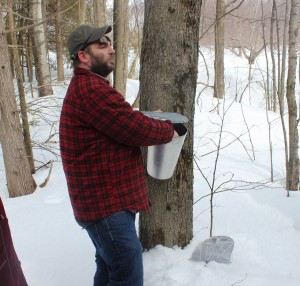 He explained that it takes 30 gallons of tree water to produce 1 gallon of maple syrup.  The maple farmers pierce the trees and hang buckets to collect the water.  The buckets are collected at the end of each day and boiled to let the water evaporate.  The remaining liquid is used to make maple syrup.  The longer the water boils the sweeter the syrup becomes.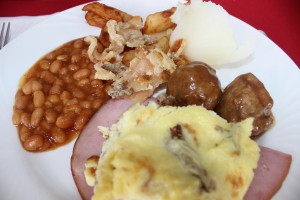 We then made our way into the Sugar Shack to enjoy a traditional Quebecois meal.  The meal consists of pea soup, picked beets, pickles, onions, sweet ketchup and of course lots of maple syrup to be poured on everything!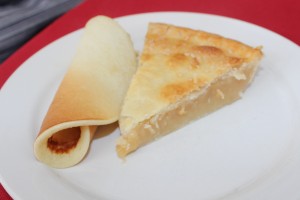 We were then served omelet, ham, meat pie, meatballs, potatoes, sweet beans and fried pig skin.
Dessert consisted of maple pie and pancakes!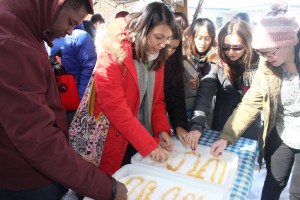 We then made our way outside where we were introduced to maple taffy on a stick.  Hot maple syrup was poured on buckets of snow.  A popsicle stick is then used to twirl the maple syrup.  We all made our way to the bus sucking on our sweet and tasty taffy!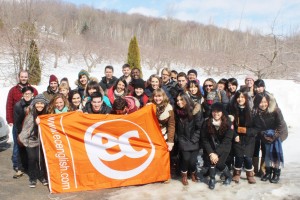 What a sweet way to spend a Saturday afternoon with EC Montreal!
Comments
comments