"The year is 2700 and planet Earth is unhabitable. For hundreds of years a robot called WALL-E has been taking out the trash and trying to clean up Earth. WALL-E doesn't realize that he has found the key to saving the planet."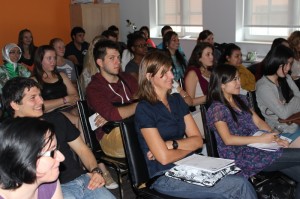 Come and watch this movie with your classmates and practice your listening, note-taking, writing and speaking. The movie will be shown three times at EC Montreal this week: on Tuesday, March 18 at 1:30, Wednesday, March 19 at 1:30 and 3:15. The round table discussion about the movie will take place on Friday, March 21 in room 8.
If  you are looking for a great opportunity to practice your listening, vocabulary and speaking skills, participating in the movie activity and the round table discussion afterwards is highly recommended!
Comments
comments