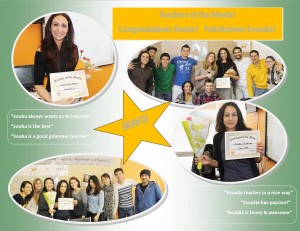 EC Montreal started a teacher of the month campaign in March.  Our student ambassadors helped us to distribute ballots to the entire student population.  The question on the ballot was "Who was your favourite EC Montreal teacher in March and Why?"
Students had the chance to vote for their favourite English and French instructor.  The ambassadors brought the votes to us and we did the count.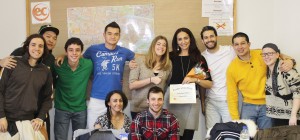 Every single EC Montreal teacher received at least 1 vote.  We were also so proud to read so many amazing comments about our teaching staff.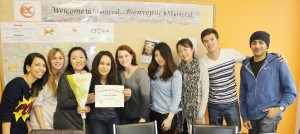 We surprised our winning teachers in the classroom with a special EC Montreal teacher of the month certificate as well as a bouquet of flowers.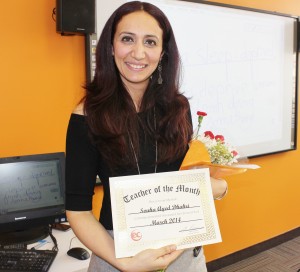 We are happy to annouce that Souha was the winning English teacher with 8 votes and Essadia was the winning French teacher with a whopping 17 votes!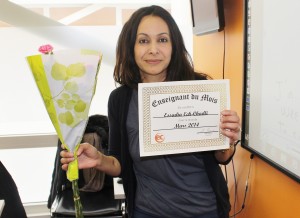 We would love to share some of the wonderful comments with you!
"She is so interactive and dynamic!"
"She can explain everything very well and I can save it in my mind"
"He is really good.  I like his style during the class"
"I learn a lot about grammar structure"
"He is very funny and he can get the student`s attention"
"Interesting class.  A lot of details we can learn with him"
"He loves to teach!  He really helps us with our pronunciation"
"Really good teacher and always giving new activities"
"He speaks a lot about his own life, so all the lessons are very interesting"
"Heureux, intelligent et passionné avec le français"
"Il est le meilleur"
"Il est un excellent professeur"
"Toujours gentil, motives et il peut expliquez les choses très bien"
"Un enseignant compétent qui sait bien expliquez le cours est très diversifie"
"Il est très drôle et très intelligent"
"Il est très bon et heureux"
"Un prof énergétique"
"Toujours gentil, motivant, bonne manière d'enseigner"
"I like her because of her sympathy, comprehension when you`re a beginner makes you feel comfortable"
Congratulations to all our passionate and dedicated EC Montreal teachers!  Bravo!
Comments
comments