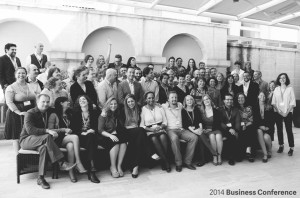 The week of April 7, all of EC's directors met in Malta for its annual business conference.  Even though EC is a large company, getting together will all the other centres and departments feels like a family reunion!  It is always so wonderful spending time together and sharing our passion for our EFL industry!
The theme of this year's conference was celebrity service.  EC invited several guest speakers to present to us what giving great customer service means.  We shared our ideas on how we could make our student experience an even better one!  The theme of the conference encouraged us all to think of our students as celebrity clients!  We were asked to think of our favorite actor or actress and envision them coming to EC to learn a language.  What would we do differently?  How would we behave?  If we are willing to dress up for a celebrity and make sure our schools looks clean and there are welcome flowers at the reception desk, for example, we should be doing all these things for every student who walks through our doors.  Every single one of them should be considered VIP!
At EC Montreal, we are already on the right track!  We feel we give our students personal attention and care.  We make sure to remember all our student names, we celebrate their birthdays and special holidays!  We make ourselves available to our students and go out of our way to ensure their stay is a memorable and pleasant one!  We will be making improvements to enhance our students' experience even further!
Comments
comments