We are thrilled to introduce you to EC Montreal's newest member, Heather Sterling-Marriott.  Heather has joined the team as the Young Learner's Programme Coordinator.
She is fired up and ready for an amazing summer with the Young Learner team!
Here is what she would like to share with all of you: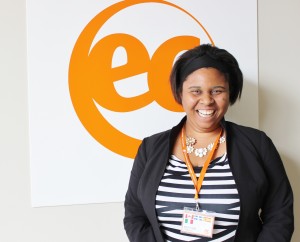 The day I started my summer mandate at EC Montreal on May 26th, 2014, I felt instantly at home. I feel very much connected to the company, its business model, its vision and mission and the quality of customer service it delivers to a cherished clientele on a daily basis.
First of all, my career background has always been a keen involvement in education and training of one form or fashion. Initially, I started out the gates with an orientation in massage therapy and bodywork. At a pivotal point, I expanded to financial services and entrepreneurial business. Most recently, the focus gravitates to facilitating workshops related to issues in communication and leadership. Whether the objective is training university students fortifying their industry-specific skills with the capacity to express themselves while feeling fearlessly fabulous in their self-expression; to coaching experts to conjure up an inspirational an riveting idea worth spreading for TEDx Concordia staged production; to empowering job applicant of YES Montreal (Youth Employment Services) to experience networking as a positive long-term relationship building endeavor. No matter the domain, my commitment is to assist people at integrating communication as a rich and empowering experience and as well as fundamental life skill.
Secondly, my experience with this organization and its mission, date back some 15 years of history with this office and its founding leaders, like Elisa and Ana. I started out as a homestay host, eventually spent summers with the teens as a monitor and/or as the activities coordinator. It has always represented an enriching part of my life to be involved in the organization regardless of scope or capacity. Thus, when I was approached and invited to rejoin the team this summer, it was very easy to make the commitment to come back aboard with a bold YES!
For summer 2014, I am very much looking forward to all that it means to be the Young Learner Programme Coordinator. I feel privileged to be implicated at setting up the program from the ground up within an organization that caters to teen living a once-in-a-lifetime summer experience with us in Montreal. The program promises to launch as a dynamic and memorable comfort away from home that will nurture their growth in mind, heart and spirit. I am so thrilled to lead the A-class team that will assist in the enchantment and deliver stellar activities that will create memories for years to come.
I am very proud to be a member of the phenomenal team and organization!
Heather
Comments
comments