EC Montreal has 2 new teachers of the month for the month of May!  Our student ambassadors polled all the students and we counted the votes.  We are thrilled to announce that Melissa is our English teacher of the month and Anne-Louise, who likes to be called Loulou is our French teacher of the month!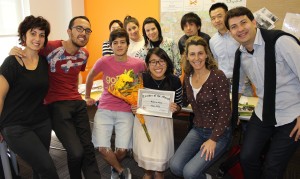 We surprised them in their class with a special certificate and a bouquet of flowers!  They were so surprised to learn this news!  They posed with their students who applauded with great enthusiasm!  I am sure the classroom celebration continued after we left!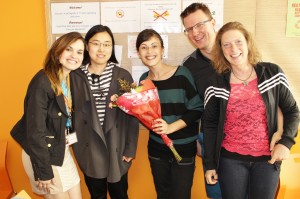 Congratulations to Melissa and Loulou!  It is clear that your students think the world of you!
Once again, it was wonderful reading all the comments left by our students.  Every single teacher at EC Montreal received at least 1 vote!  We are so proud of our teaching team!  We are delighted to share the student comments with you:
She's the best!
My best friend !
She is nice !
Very good class in pronunciation!
Because I love her!  Because is a good person and good teacher in the world!!!
She is always happy and push you to learn more.  She motivates you to go up for the next level!
Best teacher ever!  The class is never boring!
It is fun to go to his class!
Dynamic!
He is so kindly speaking.
Good teacher!
He is a very smart guy and he gets the attention of the class.
She explains very well!
Fun classes!
She's amazing!  Best teacher!
Amazing and great technique to teach us.
Friendly!
Her teaching makes me interesting!
I think that she has a good pronunciation and knows how to explain to us.
Teaches and explains everything.
She is so cute!
Hard worker!
Serious, fun and focused!
I love you!
I like how she explains!
She is kind and her explanation is very good!
She speaks clear and it's easy to understand her.
Amazing!
Funny and good teacher.
She is so sweet !
Awesome teacher !
I like his style of class !
Funny, interesting…a lot of students like her !
Her class is easy to understand !
Because explain and class is entertaining.
Because she speak very well and explain good J.
Nice way to teach !
Motivates the students every day and is good teacher.
I love her!  She is a really good teacher.
She is well prepared and consideration.  She takes care of everyone.
Have patient with the students.
Because she is the best ever.  The best person in the life!!!!!!!!
Comments
comments