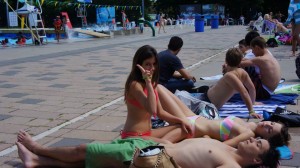 Just like other major international cities such as Paris, Amsterdam, London, and Berlin, Montréal now has its own urban beach. The Clock Tower Beach is located at the base of its namesake erected in 1921 to commemorate the brave Merchant Navy sailors who disappeared during World War I—this new strand of coastline tranquility can accommodate up to 800 people.
Of course, the city already has a family-style beach on Ile Notre Dame (just a hop, skip, and a jump away from the island of Montréal), but the Clock Tower Beach offers its own brand of fun in the sun for those who love lazing and tanning. No dipping allowed, however, since the currents off Old Montréal's Clock Tower Quay are too strong for swimming.
The actual Clock Tower, at 45 m high, offers spectacular views of Montréal, while the stretch of silky sand at its base provides a fun and friendly environment with a unique holiday atmosphere, beach umbrellas, brightly coloured chairs and fixtures, showers and mist stations, a wooden boardwalk, and a refreshment stand, all accessible via a giant stairway ramp. A stroll along the clock tower Quay gives locals and visitors alike the opportunity to take in the magnificent panorama composed of the mighty St. Lawrence River and picturesque Old Montréal.
The Clock Tower beach is open to the public.  EC Montreal students will have many opportunities to enjoy this urban beach during their stay.  A visit to Old Montreal would not be complete without having a drink and sunbathing at the Clock Tower beach!  Look for this activity on the next EC Montreal social events calendar!
Comments
comments