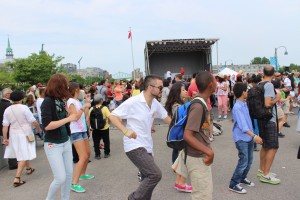 Montreal-made bands Young Galaxy and Plants And Animals will be performing at an outdoor venue at the Old Port on Saturday, June 14.  This concert is part of Red Bull Tour Bus Hometown Tour.
Red Bull's tour bus has been going across Canada and giving out free concerts by hometown bands that have recently exploded on the national and international music scene. Young Galaxy just finished their fourth LP Ultramarine so we can expect a sample of their new tunes on Saturday. charge.
Plants and Animals haven't released a new album since their 2012 release The End of That but they've had a couple years to produce some new sounds. Their incredibly unique vibe and reputation for improvisation will keep the show's energy high, whether you're familiar with their tracks or not.
If you've never heard of either band, then here's your chance to listen to two bands from our fair city, and it won't cost you a dime.
We love introducing our EC Montreal students to everything Montreal!  This is a perfect chance to listen to local sounds in a majestic setting like the Old Port of Montreal!
Montreal rocks!  Come learn English and French in Montreal this summer and fall in love with very cool city!!
Comments
comments