EC Montreal is proud to introduce you to Sacha Khoury!  She recently joined our team of English teachers.  She is extremely passionate about teaching!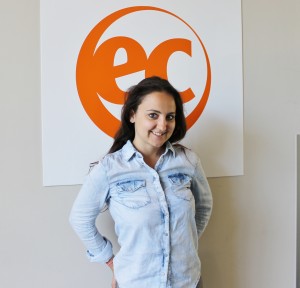 Here is what she would like to share with all of you:
Hi! My name is Sacha I am half British and half Lebanese and have been in Montreal for 10 months! Before coming here I was living and working in Beirut, Lebanon in the American school as an early years teacher.  I came to Montreal and decided to change things up a bit and get my CELTA training which has now led me to EC to teach English to adults.
Growing up in Lebanon where there are three official languages (Arabic, English, and French) I know the importance of becoming bilingual and how useful it is in our everyday lives and for our futures. Teaching is my passion because I enjoy building great rapport with my students, getting to know them and their life journey. It is also so rewarding to see how much the students improve from their first day of class to their last!
Montreal has been one of those cities that has inspired me to discover myself, other people, and different cultures.  I am really passionate about teaching and super excited about this opportunity, to get to meet new people, make new friends, and most importantly to help students learn a new language!
Comments
comments