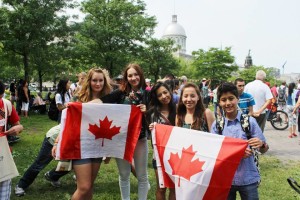 July 1st is Canada Day!  Today we celebrate Canada's 147th Birthday!  Although the school is closed today, our EC Montreal students are enjoying the festivities taking place in Montreal and Ottawa.
A group of 15 students joined the tour to Ottawa today.  There they will enjoy all the free concerts, shows and fireworks at our nation's capital!
The students who decided to stay in Montreal will enjoy the annual Canada Day parade on Ste-Catherine street followed by celebrations at the Old Port.  They will participate in the Birthday cake and different concerts.  Everyone is encouraged to wear red and white and wave our glorious maple leaf flag!
Happy Birthday Canada!   Thank you for our freedom, peace, economic growth, affordable education and free health care.  We are the envy of the world and it makes us Canadians proud!
Comments
comments