EC Montreal announced its June teachers of the month yesterday!  Melissa from our English department and Djamel from our French department received the most student votes!
Our student ambassadors helped us distribute the ballots to our entire student population.  We counted up the votes and Melissa received twice as many votes as any other teacher!  She is absolutely adored by our students.  This is her second win at EC!
Djamel is also a second time winner!  He was our April teacher of the month!
When we went to the classrooms to announce the winners the students cheered and celebrated their teachers!  You can tell they were so proud to be in the classrooms of EC Montreal's teachers of the month!
Melissa's afternoon class later came to the office to ask if they too can have a pciture taken with their teacher of the month!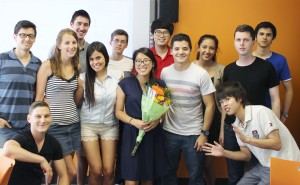 When we ask the students to vote for their favorite teacher, we invite them to tell us why?  We are always so thrilled to read the many wonderful comments written by our students!  We are happy to share them with all of you:
She is the best.  She always does the class more fun and I love her classes!!
Best teacher ever!  She has 3 kids so she is very patient!
He teaches very well!
She is great!
She's the best!!
She is kind and I love her!
Funny & organized!
Full of passion!
Because he's the best ever!
Good way to teach!
She's very patient and kind!
sooooooo nice teacher.  Love you !
He is a good teacher!!
She worries about us!
He is so cute!
I love him!
She is a person who makes me feel unexplainable feeling!
He is a good teacher.  I like all topics in his class!
She is amazing!
The best in the world!
She explains very well and her class is funny and interesting!
Her class is the best one!
She is kind and a good teacher!
She explains very well!
Because she is very patient!
She is an excellent teacher!
Always helps me and I feel we are important to her!
She sang a beautiful song for us just to explain grammar!
He is comedy!  Looks like comedian – comic man!
He is funny!
Really kind!
She teaches very clear!
He gives us great lessons!
She is kind and comfortable!
Congratulations Melissa and Djamel!  Thank you for your hard work, passion and dedication to EC!
Comments
comments