Karla Kane is an American student studying in our General French programme.  She was supposed to finish her studies last week, but had to extend for one more week because she just couldn't say good bye!  We are so sad to see her go!  She has been an absolute joy to host at EC Montreal!  Here is what she would like to share with all of you: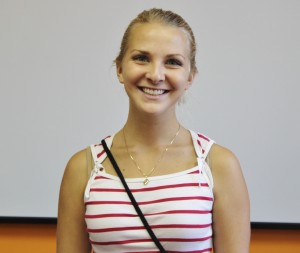 I chose Montreal because I thought the blend of English and French culture would be perfect for learning a new language. I was surprised that most of my friends ended up being Brazilian or Swiss. My favorite part about being here is probably the possibility of encountering multiple world cultures in one city and how welcoming everyone has been.
I would absolutely recommend EC to a friend because the teachers here are more motivated and impassioned about their topic/language than any teacher I've ever had in the past, and the office members were so accommodating and helpful.
I loved that there was an activity each night so that you could come and meet new people if you want. My French was improved significantly and I can't think of a better way or place to learn.
Thank you for everything!
Comments
comments