Melanie, who is participating in EC Montreal's General French programme is having a wonderful Montreal adventure.  One of the main reasons is due to her great connection with her homestay hosts!  Here is what she would like to share with all of you: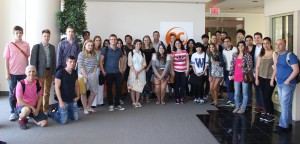 I had the opportunity to stay with a homestay family that was the best!!  They were born in the province of Quebec and it is the reason why they know so much about Quebec.
I therefore learn not only French but I am learning about another culture altogether.
My hosts are so generous and kind.  I am starting to feel a little more Canadian every day.
I want to thank EC Montreal for this memorable experience!
Comments
comments